And suddenly, a cry. Serious, hoarse, jubilant. Launched at the top of their lungs by a jubilant crowd, it rises and flies towards the night sky of Rio de Janeiro. It is a little after 10 p.m. this Friday, April 22, when the samba school of the Imperatriz Leopoldinense rushes on the track of the "sambadrome", thus giving the kick-off of the carnival parades. And, from the first salvos of the batterythe "wonderful city" did not hesitate to howl its joy, in an exalted, almost triumphant clamor, which sounds like a return to life for a city and a country hard hit by two years of pandemic.
"Prepare your heart! ! ! », shouts the master of ceremonies into his microphone. Instantly, a shiver runs through the arquibancadas, these long concrete bleachers designed by the architect Oscar Niemeyer. On the faces of the thousands of spectators, there is joy and even tears. For the Cariocas, there is no longer any need to hide their emotions behind an anti-Covid mask: the latter has not been compulsory for weeks.
Contamination rates are at their lowest. After a canceled 2021 edition, and a long uncertain 2022 edition then postponed to April, the city is ready for its big party. She looks like a drunk boat, ready to capsize with happiness.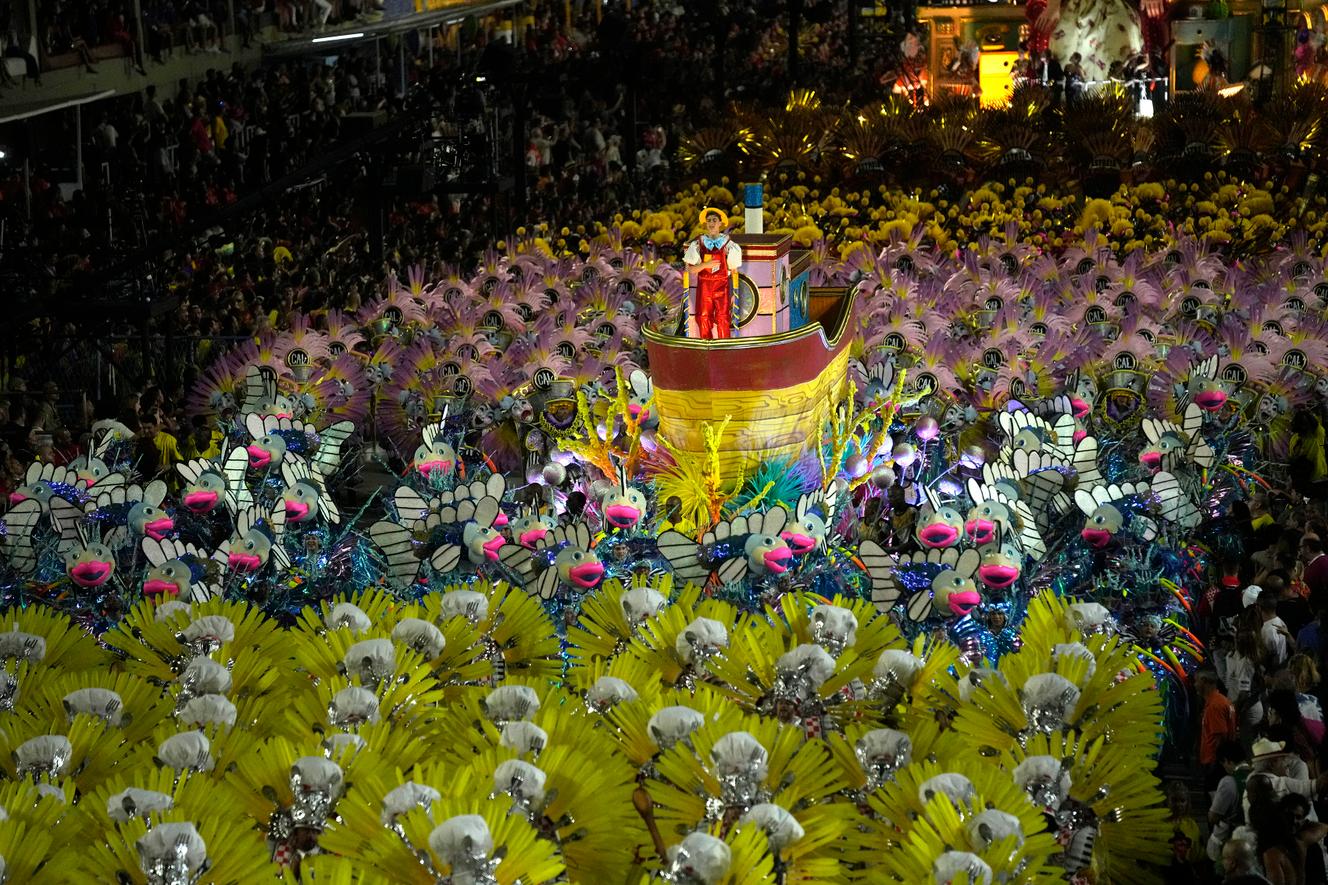 "It's wonderful, wonderful! So beautiful ! So much emotion! Everything is different but nothing has changed! », is moved Artur Franco, interpreter of the first enredo, this song punctuating school parades. At the side of this man with the powerful voice, dressed in an immaculate costume, the whole army of Brazilian happiness is at attention: queens, muses and princesses with feathers and beaded panties, Roman legionaries armed with inflatable toucans, Marie-Antoinette in purple wigs, dancing sunflowers, ballerinas, magi or pharaohs… All accompanied by allegorical floats 20 meters high, a marvel of painted fabrics and polystyrene, a baroque blend of ingenuity and resourcefulness.
Pride found
During two nights of parade, Friday and Saturday, as on the greatest days, it is the return of the traffic jams of feathers and sequins on the 700 meters of the avenue du sambodrome. "Splendor! Lindissimo! Gigantaaaaaaço! [Splendeur ! Magnifique ! Enoooorme !] », shout the bays, celebrating the return of happy days and rediscovered pride.
Several of the twelve schools competing in the Special Group (the most prestigious) have also chosen to use their own history as the theme of the parade. This is the case with the Vila Isabela, which paid homage to the Carioca sambiste Martinho da Vila, or the popular Mangueira, in pink and green, which celebrated the memory of its "Gods" and founding fathers. Cartola, Jamelao and Mestre Delegado.
You have 46.02% of this article left to read. The following is for subscribers only.
#Brazil #years #Covid19 #carnival #Rio #sign #resilience